It's Surprising what a Writer may do when Rejection Bites
Healey's First Law Of Holes: When in one, stop digging. Denis Healey
Sting? What sting?
There I was. Rejected. And with an invitation to collect an unwanted paperback plus meet a bookseller for an informative cuppa and chat. If you missed the first part, start here.
Into the breach
Not many people know I'm a masochist, least of all me. MacL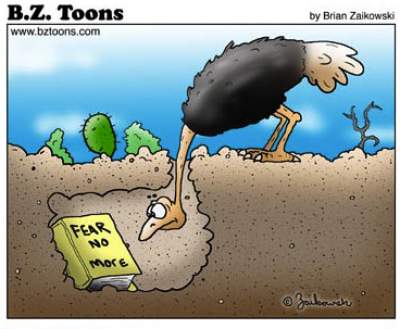 I went in for the coffee yesterday. When I arrived, the Manager was at the front counter with a rep from a publishing house (as she explained).
Her greeting was perfunctory, eyes busy with important things, when the writing equivalent of Banquo's ghost pitched up. She said my book was ready for me … end of communication … Not quite.
But you promised
I reminded her about her coffee-and-chat invitation which I was looking forward to. After all, I'd put on my best crime-writer weeds and puffed some manly eau de toilette over my rather grizzled torso.
She sighed, took me to the back of the store, asked an assistant to make Mr Logan a cafetière and said she'd be with me in 10 minutes. The coffee arrived. I enjoyed a pleasant chat with the assistant for five minutes or so. Then duty called and he rushed off.
Excellent strong scented coffee and a biscotti made my stay at a little table in one of the nooks and crannies, amidst the books … a delight. My unread copy of Angels Cut lay at my hand, pristine, unsullied by an interested reader.
A dragging of time
During an incredibly long half-an-hour, I spotted a comprehensive paperback I wanted. As one does, I picked it up, purchase in mind. Then, as the time trickled by, I put the tome back having decided to buy elsewhere.
With thirty minutes gone, I visited the innocent, now embarrassed, young man who'd made my brew and thanked him for an excellent brew. Next I walked the length of the store, past the Manager at the front counter, who ignored me as I walked by, and out of the store.
In the street, a big sighed eased my humiliation. Next, I tuned in to Mindfulness and other alternatives to unhelpful feelings.
Murmur murmur in the car
Back in the car, checking the parking ticket, I estimate I'd waited around thirty-five minutes for her. I drove back talking to myself … you know … the sort of personal conversation one has oneself after an unhappy experience. What a long walk to the door as I left.
Cresting a hill with the sea and the East Lothian coast before me, I felt lucky. So many author's rejections are impersonal, dry, disinterested. This one was up close, personal and infused with disdain. Worth having. I wonder what the ratio of good visits to awful is for people pushing books.
Having reflected, and wanting to at least lose well, I wrote a brief email to the Manager:
Hi xxxx
Thanks for the excellent coffee this afternoon. I'm sorry we didn't manage to talk. You were busy, and I couldn't wait longer.
If you are willing to have a chat then I'll happily drop by again.
Kind regards
Mac
Next
My adventure continued the next day … book-less pitch, different place.
© Mac Logan