A Terrifying Situation, a Brother's Love and Safety from Dragons
Greater love hath no brother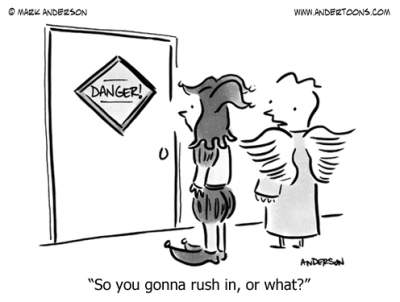 Who'd have thought I'd witness a brother's love overcoming fear, and staying strong in dangerous proximity to a top predator?
In the autumn/winter, a few years back, I walked an old droving road every day in all weathers. The vegetation vanished and as the nights drew in, the path ever more like slurry … and I could see more and more of the old walls. And then,  in one particular place, the wall had a sizeable hole …
Story's end
'You could see sunlight? Even though it was nearly dark and raining?' A five-year-old grandson's wide eyes goggled at me.
'That's right, it's another world.' I said. 'I looked through the hole and saw castles and dragons.'
'Castles and dragons? How did you get away?'
'… just jumped through and was back in an awfully dirty and cold night.' His little face bulged with energy and imagination. Time to sink the hook. 'See this tear in my jacket?' I wiggled my finger through a hole, 'It was made by a dragon's claw.' My nod affirmed reality.
'Can we go and see it?'
'Of course. We'll go over the fields and on to the old road.' A warm summer day made the idea an exciting one.
Dragon country
The boys dashed about in the way of children. They talked, laughed, argued, explored, ran hither and yon. I walked along, a human reference point and diplomat. Keeping in touch and refereeing the more extreme disputes.
Suddenly, we were at the hole in the wall, once again surrounded by vegetation. In a bound, elder brother, almost three years older, leapt through and disappeared. His younger sibling went close, and stopped. He turned to me, 'is this the place?' I nodded.
His face became troubled and his eyes moved, stirred, I suppose, by a conflict between fear and love. Love won out. Stiff with fear, he clambered through the hole and stood on the other side. Hands on his hips, eyes searching for deadly creatures, he yelled out, 'Craig, come back, THERE'S DRAGONS!'
I joined him on the other side of the wall. My entry wasn't elegant. I hugged him and reassured him we were safe, because we weren't in the land I'd seen on that far away winter night … it must only happen on icy, soaking winter nights …
Moments later, we were back on the road. The scary part forgotten by the boys, but never by me.
True courage, a brother's love
There's are all kinds of bravery in the news every day. On that summer's afternoon, I witnessed a brave-heart, a child, show immense courage as he faced the menace of dragons for his brother.
© Mac Logan